Now, OpenFlyers can automatically synchronise appointments linked to reservations with a personal Google Calendar.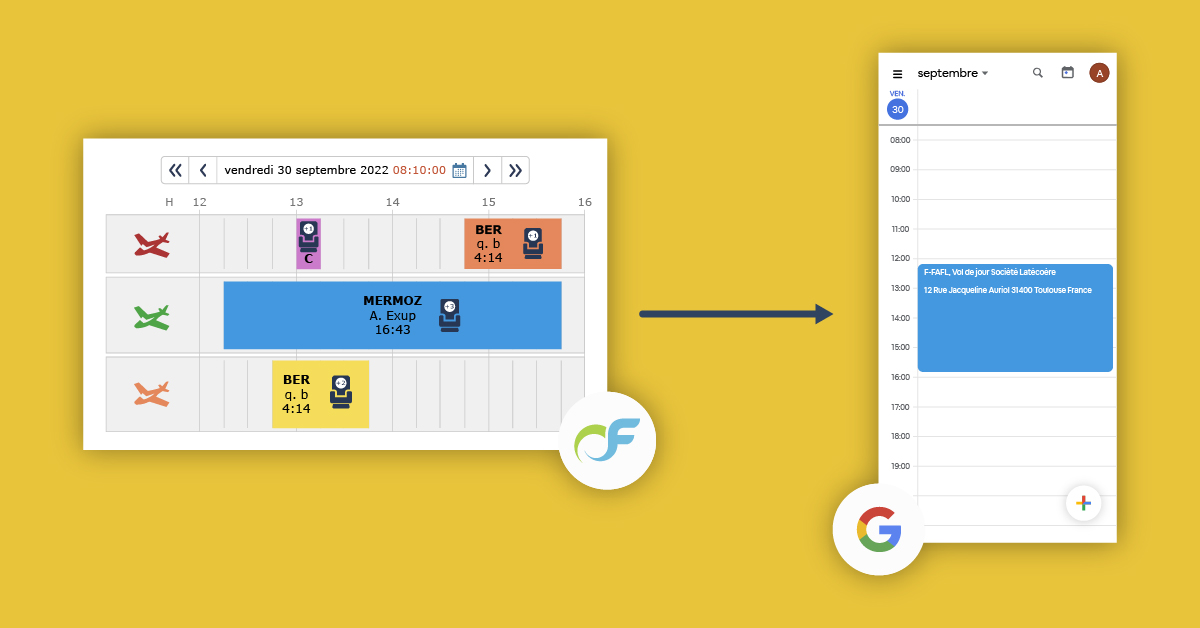 For many years, it has been possible to retrieve appointments corresponding to reservations made in OpenFlyers on a personal electronic calendar using the .ics attachment present in the reservation emails. Users who use Google Calendar can now automate the update of this personal calendar with their OpenFlyers bookings.
This works regardless of the place occupied on the reservation. This is particularly useful for instructors.
Moreover, the synchronisation is instantaneous: as soon as the booking is made, the personal schedule is updated. The same applies to modifications or deletions.
Finally, it is possible to set up in OpenFlyers, the schedule with which OpenFlyers must synchronize. Thus, it is possible to create a calendar in Google that will only receive OpenFlyers reservations.
To activate this synchronisation, simply follow the procedure below:
From the schedule, go to Data > Personal > View and personal file
Under the heading Synchronisation of bookings and the subheading with Google calendar :
Click on the button Sign in with Google.
If several Google accounts are registered in the browser, a page will appear asking which Google account to synchronise with. Select the relevant account.
Once the user has linked their Google calendar account, a list of calendars will appear allowing them to choose which calendar to create events in.
Data > Personal > View and personal file
Under the heading Synchronisation of bookings and the subheading Calendar:
Choose one of the calendars in the list
Click on Save
This procedure is described in the OpenFlyers documentation, chapter "Synchronising bookings in OpenFlyers with a Google calendar": https://openflyers.com/fr/doc/of4/Fiche-personnelle#Synchroniser-les-réservations-dans-OpenFlyers-avec-un-agenda-Google