OpenFlyers, in partnership with the German company Charterware, is deploying a solution based on a permanently installed housing in each aircraft. It automatically retrieves block and airborne times and automatically saves flights in OpenFlyers. It is also possible to have the "GPS track" of each flight, useful in particular for training pilots. This tool frees pilots from entering their flights and makes flight information more accurate, including accurate countdown of landings and touch-and-goes. Finally, it traces the hard landings.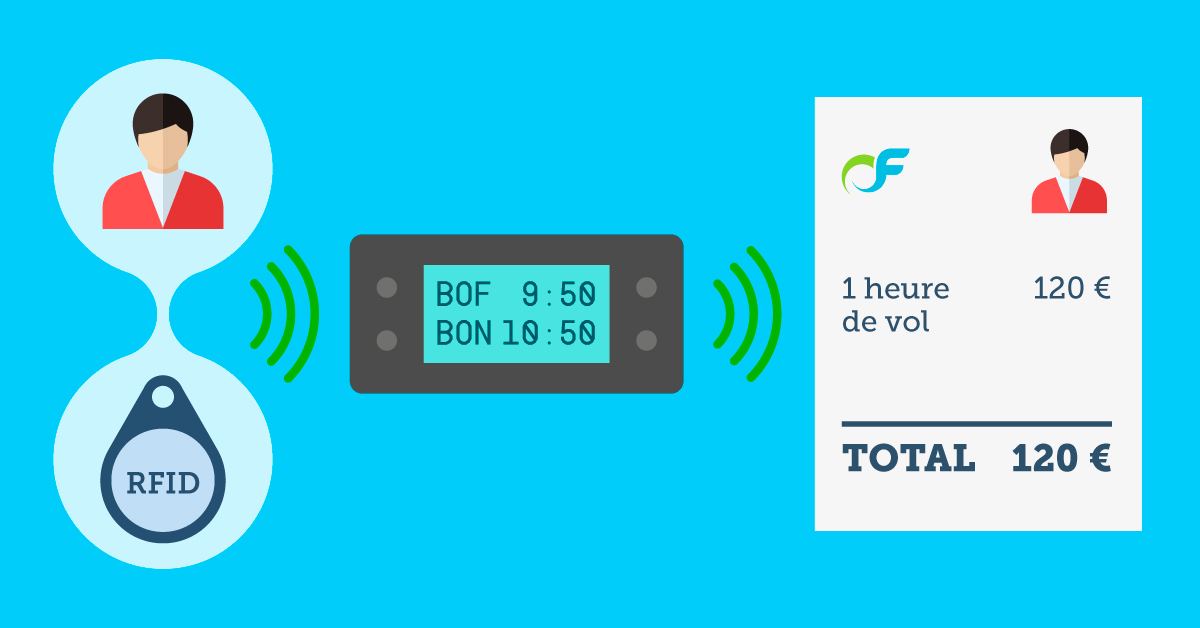 Thus, not only the flight is automatically entered but billing is also automatically generated. The OpenFlyers robot makes the data collected more reliable by crossing them with the reservations made upstream by the pilots.
In practise, after the flight, when main power is switched off, it is time to write the log book. This is now done by putting the crew RFID badge in front of the Charterware box installed in the aircraft. The box acknowleges the electronic signature of this flight by displaying the block and airborne times. Everything else is automatic.
The implementation of Charterware requires the purchase of the box, to install it on the aircraft and to subscribe to the data transmission subscription. Pricing is available here: https://www.charterware.de/price.html.
In addition to the installation of the box, the interface with the OpenFlyers platform must be implemented according to the procedure described here: https://openflyers.com/fr/doc/of4/Interfaçage-OpenFlyers-et-Charterware.
Automated flight recording
For each flight, OpenFlyers retrieves or deducts from the Charterware server the following information:
Aircraft concerned
Departure time
Flight time
Number of landings and touch-and-goes
Hards landings, including crash energy, place and time
Time in the air ("airborne")
Pilot + instructor (if present) on board
At the end of the flight, this information is transmitted to OpenFlyers and then cross-checked with the reservations entered on the schedule. The match flight / reservation being established, the billing is generated for the driver in place on the left. Management of different types of activities is planned, including instruction, to bill the right person and the right price. If the driver forgets to badger, OpenFlyers retrieves the information from a possible reservation.
Recovery of flight traces
As an option, the GPS functionality offers the possibility of retrieving flight traces as a .kml file. This contains the geographical data of the aircraft (latitude, longitude, altitude), as well as the speeds. The file can then be imported into Google Earth to view the flight in 2D or 3D.
This feature is highly appreciated by instructors, who thus have an easy-to-use way and with a strong pedagogical added value to help debrief with their student pilots.
Documentation on interfacing with Charterware:
https://openflyers.com//fr/doc/of4/Interfaçage-OpenFlyers-et-Charterware
Page presenting the feature :
https://openflyers.com/en/fonctionnalites/recuperation-automatique-des-vols-avec-charterware
Page présenting Charterware and the OpenFlyers' partnership ecosystem :
https://openflyers.com/fr/entreprise/ecosysteme-openflyers