By interfacing with Skyzen, OpenFlyers offers to go beyond its maintenance monitoring module. Indeed, Skyzen is a real airworthiness monitoring software, in the sense that it follows the instructions issued by the authorities (CN, AD, etc.) and that it updates the maintenance programs of each aircraft accordingly . Skyzen is web software, like OpenFlyers, which allows it, like OpenFlyers, to offer competitive prices compared to PC software while offering a solution accessible from anywhere and by any authorized person.
Skyzen can be used in two separate settings:
• that of the Part M Light defined by EASA since March 23, 2020 and which eliminates the need for an approved workshop to monitor aircraft if their maximum take-off mass is less than 2,730 kg;
• that of Part M, which distributes actions between the workshop, more precisely the CAMO (Continuing Airworthiness Management Organization) part, and the aeronautical structure.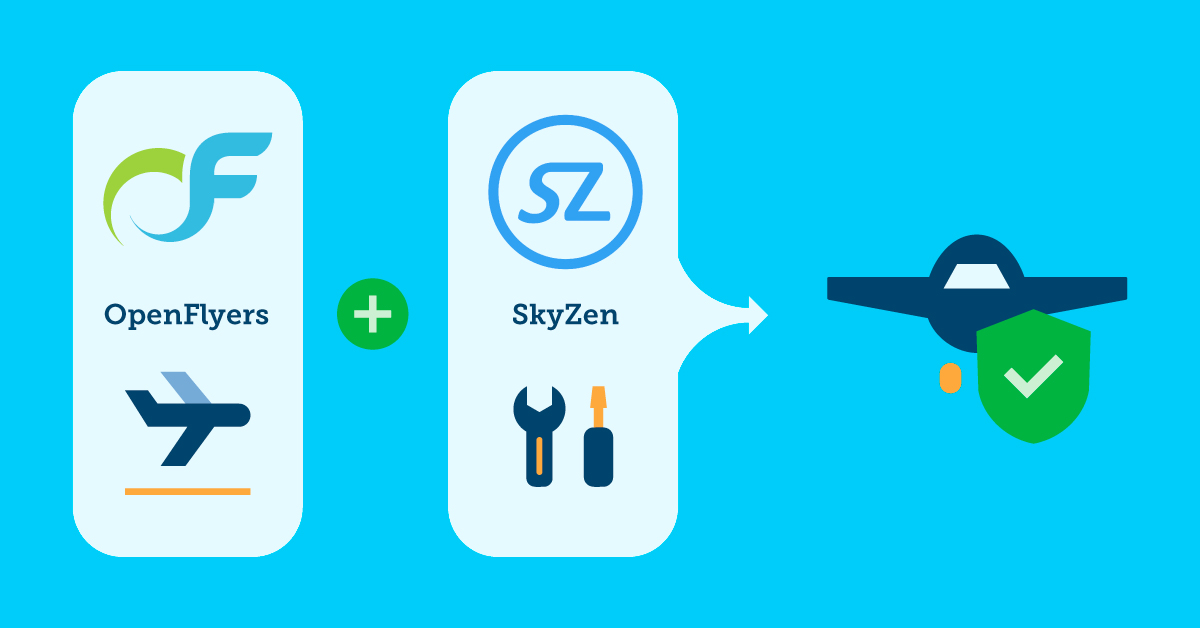 When the aeronautical structure itself monitors the airworthiness of its aircraft, Skyzen allows it to carry out all of the airworthiness monitoring actions and to discharge it from certain actions such as:
retrieving directly from OpenFlyers the flight hours entered;
updating the maintenance schedule based on "falling CNs".
The structure can then:
check in Skyzen the next deadlines and the remaining potential of each element;
plan the next visits to his workshop with the planned maintenance actions and then close them.
Within this framework. Skyzen assists the structure in managing the airworthiness of its fleet.
When the aeronautical structure goes through a workshop performing the airworthiness monitoring task (CAMO) using or agreeing to use Skyzen, the advantage is to have a dashboard common with the workshop and to remove part of the operations invoiced by the workshop which will no longer have to update the maintenance program according to the instructions that may appear. Again, Skyzen automatically retrieves flight hours from OpenFlyers.
Like OpenFlyers, Skyzen uses the blockchain principle to ensure data interoperability. Visits and interventions relating thereto cannot therefore be modified once they have been validated. Any falsification of data is therefore impossible.
Interfacing with OpenFlyers allows the activities entered in OpenFlyers to be sent. Skyzen then takes care of everything. Synchronization is done manually or automatically, for example, every morning. Interfacing is extremely easy to activate, as shown in the video below.
Finally, using Skyzen means drastically reducing the costs of airworthiness monitoring compared to using a CAMO. For example, for a single-engine piston:
Skyzen: single-engine piston from € 429 incl.tax / year + € 180 incl. Initialization (instead of € 240 incl. Tax, i.e. -25%, thanks to the promotional code that we provide to our customers);
CAMO: single-engine piston between € 660 and € 800 incl.tax / year + € 70 to € 120 booking fee per visit + € 500 to € 700 incl. Initialization.
To view the procedure for interfacing OpenFlyers with Skyzen:
https://www.youtube.com/watch?v=SnMRJT-IsLE