OpenFlyers enriches its lettering functionality by adding a "basket" of pending entries. This makes it possible to letter entries that appear in different views.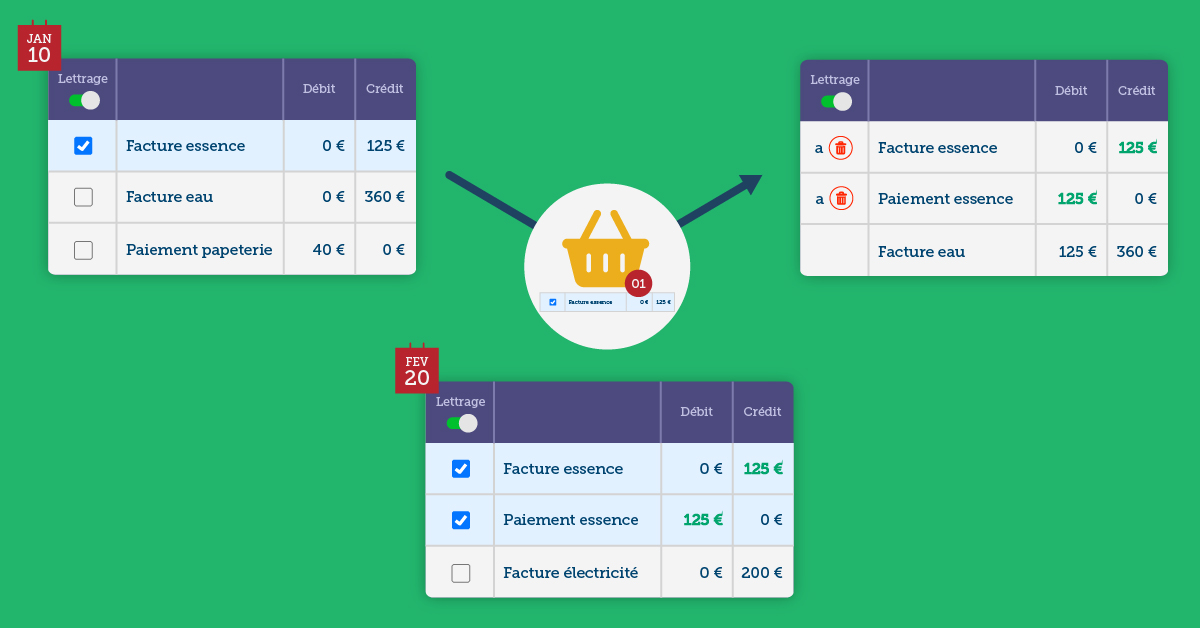 Lettering is a tool that allows you to filter entries in order to highlight only those entries that pose a problem and for which action must be taken.
To do this, the lettering operation consists of associating accounting entries with the same letters and the same object. For example, it may be an entry corresponding to a supplier invoice with another entry corresponding to the payment of this invoice.
Once the entries have been lettered, it is then possible to display only the entries that have not been lettered and thus instantly highlight the entries that are causing problems in the accounts.
To further facilitate this lettering work and save additional time, a "basket" of pending entries has been added to this functionality. Thus, when an accounting entry is selected, it is placed in this "basket" above the table of the account concerned and is distinguished from the account entries by its blue background. This "holding basket" therefore makes it possible to keep in memory the selected accounting entries that are to be lettered.
In this way, it is possible to navigate from one month to another, while keeping the selected entries awaiting lettering, in order to reconcile them with other entries that are distant in time or appear only on other displays.
Lettering tutorial video : https://www.youtube.com/watch?v=Bgb32Ay6TVU
Documentation on lettering : 
https://openflyers.com/fr/doc/of4/Utilisation-de-la-comptabilité#Lettrer-des-écritures-comptables