Aérogligli offers on-line courses for the preparation of the theoretical exams for private aircraft pilot (PPL/A and LAPL/A) and for the Aeronautics Initiation Certificate (BIA). These e-learning courses are made up of theoretical courses and MCQs.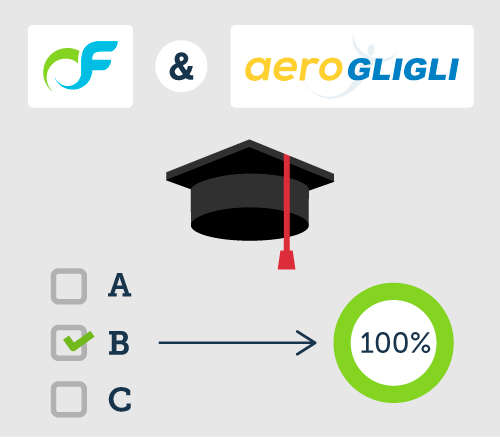 All OpenFlyers users can now perform a daily QCM offered by Aérogligli on their OpenFlyers platform. And, if the user is registered with Aérogligli, he can follow on OpenFlyers his level of progression to Aerogligli trainings.
In order to display the box showing the progression to the MCQ and to the courses of the logged-in user, the user's Aeroglylig user number must be entered in OpenFlyers. There are two methods:
The manager enters this number in the Aérogligli user number column of the Personal data tab of the User list table, accessible from the main menu.
The connected user activates the display himself by going to Personal data via the main menu and entering his Aerogligli user number in the Aérogligli user number field in the Personal informations section.

See our online documentation (FR):
https://openflyers.com/fr/doc/of4/Interfaçage-Aérogligli